Self-leveling resins epoxy and polyurethane floors
The self-leveling products are a very requested solution for flooring, due to its easy application and its smooth and uniform finish. Incorporated in a Rayston flooring system they become a complete solution for the needs of many commercial and industrial floors, homes, and even pavements in workshops and parking lots with very high resistance requirements.
Types of self-leveling resins
Depending on the conditions and requirements of the work, Krypton Chemical will advise one or the other of the following products:
Paviflex – Flexible high resistance pavements
Paviflex is a flexible polyurethane floor with good resistance to abrasion and scratching. It is ideal for interior coatings such as homes, offices and restaurants.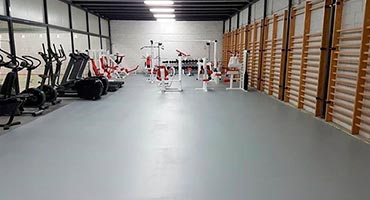 Pavifloor – Flexible high resistance pavements
Pavifloor is a two-component polyurethane product that, when dried, forms a rigid coating. It is resistant to abrasion and scratching. It is suitable for interiors since it does not contain solvents.
EP Nivel – Self-leveling Epoxy
Self-levelling epoxy coating pigmented and rigid for the protection of concrete pavements. Bright and low chance of yellowing.
Paviflex A – Durable coloured flooring
The aliphatic version of the Paviflex. It allows the application of pavements of bright and clear colours without the need of an aliphatic finish.
Pavifloor EP – The epoxy self-levelling coating of considerable thickness
Pavifloor EP is an epoxy based self-levelling coating without solvents and maintaining a certain flexibility. It is suitable for flooring at industrial premises and offices, parking lots and warehouses. It offers the possibility of making pavements 2-5mm thick in a single layer.
Feel free to contact us. Krypton Chemical will be with you in your project from planning to execution of the work.
Do you want to be a Krypton distributor?
We have representation in all continents and continue to expand our territory.