Binder Products for decorative pavements
The agglomerating systems of natural marble or rubber aggregates are spectacular. They look very nice, they are draining and very resistant. The secret is our polyurethane and epoxy resins.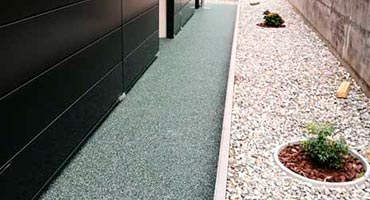 To agglomerate natural stone there are different types of transparent resins for different applications.
---
Pavistone 1K – Transparent one-component resin
Pavistone 1K is a one-component polyurethane resin specially designed to use as a binder of crushed natural stone aggregates. The result is a smooth, attractive and contemporary floor. It is draining, free of joints and requires low maintenance. It is ideal for the creation of tree basins, to decorate interior and exterior floors, to decorate gardens, pedestrian areas and trails, etc. Its use is recommended only with the clean and dry stones of the Pavistone System.
Pavistone 2K UV – aliphatic and affordable
Aliphatic bicomponent polyurethane system. It is more economical than mono-component resin and can be used with lighter aggregates.
Bicomponent aromatic polyurethane system, economical and quick drying. It is recommended to use with dark tones.
Pavistone Epoxy LY is a bicomponent epoxy resin for agglomerating aggregates of dark tones where there is no sight of yellowing.
Pavistone Epoxy UV is a bicomponent epoxy resin stable to UV rays. It is a version of Pavistone resin for use with light-coloured aggregates.
Binder products for Recycled Rubber Granules (SBR O EPDM)
What if instead of stone we want to agglomerate rubber? Easy. We will obtain a comfortable and colourful pavement. A perfect children's pavement. Next, we explain to you with what resins the rubber granules can be agglomerated.
---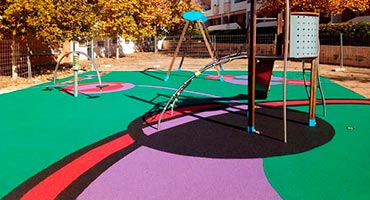 Single-component, low-yellow aromatic polyurethane resin. It is an ideal product for agglomerating granules of SBR or EPDM to create soft, coloured pavements for childrens play areas, tree pits, and decorative pavements.
Aliphatic rubber crumb binder
It is an aliphatic polyurethane resin. Version of the rubber crumb binder resistant to colour change. The aliphatic rubber binder is suitable for combination with EPDM granules.
Do you want to be a Krypton distributor?
We have representation in all continents and continue to expand our territory.