Cold liquid waterproofing
Our cold application products mono-component waterproofing resins are an ideal solution for a large number of waterproofing works. Whether it's polyurethane resins or acrylic rubber, Krypton Chemical's systems will always find the most suitable solution for your work.
One-component cold waterproofing
Cold application products are an economical solution for the waterproofing of balconies, terraces and difficult to access points, thanks to the fact that they are applied with a roller or brush and do not require the expensive and bulky hot application equipment.
The Impermax range – elastic waterproofing
Impermax is an elastomeric membrane of liquid polyurethane that, when hardening, gives rise to an elastic, continuous coating, resistant to the weather, of excellent adherence and 100% waterproof. It has the ETE 06/0263 certification with a useful life of 10 and 25 years. This polyurethane membrane and all its variants can be applied on a wide variety of substrates such as concrete and mortar, various metal surfaces, PVC and polyurethane foam, among many others.
With Impermax it is not necessary to use reinforcements to mesh or felts (except at singular points and details). Thanks to its characteristics, it is the perfect solution for the waterproofing of: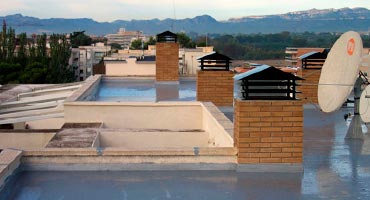 Flat roofs, balconies and terraces
Bathrooms (showers), kitchens and interiors difficult to access.
Bleachers tribunes and stairs.
Channels and water tanks.
There is an Impermax solution for all needs:
Impermax ST – semitixotropic resin (does not detach). This membrane is recommended for irregular or sloping surfaces.
Impermax Tixo – This liquid polyurethane membrane can be applied even on vertical surfaces thanks to its thixotropic, high viscosity character. It is ideal for the treatment of details and auctions.
Impermax SF – The usual Impermax solution, now without solvents. Ideal for waterproofing work in areas with little ventilation.
Impermax QC – Quick drying liquid polyurethane membrane. Specially designed for application at low temperatures.
Impermax A – This mono-component resin is recommended as a second layer on an Impermax system. Its white colour acts as an excellent cold roof and its application is recommended on decks where it is sought to reduce the sensation of heat.
Membrane made of acrylic rubber, continuous, elastic, resistant to weathering, to sulphurous fumes, to ultraviolet rays, to ice, and, in general, to aggressive agents. Acrimper is suitable for waterproofing sloping roofs and terraces (where there is no accumulated water), chimney joints or overhangs.
Single-component water-based polyurethane membrane for roof waterproofing. It is very easy to apply and offers high thixotropy. Once cured, it has a much higher level of performance compared to other water-based membranes.
SINGLE COMPONENT, COLD APPLIED POLYURETHANE-BITUMEN WATERPROOFING
Impermax B 1K is a one-component polyurethane-bitumen resin with high thixotropy and excellent mechanical properties. It is specially designed for the execution of difficult details and finishes in waterproofing projects with asphalt fabric and other membranes, guaranteeing the continuity and tightness of the system. It has high adhesion to different types of supports, especially to asphalt fabric (bitumen finish). Also recommended for waterproofing foundations.
Protection and repair of concrete according to European standard EN-1504-2.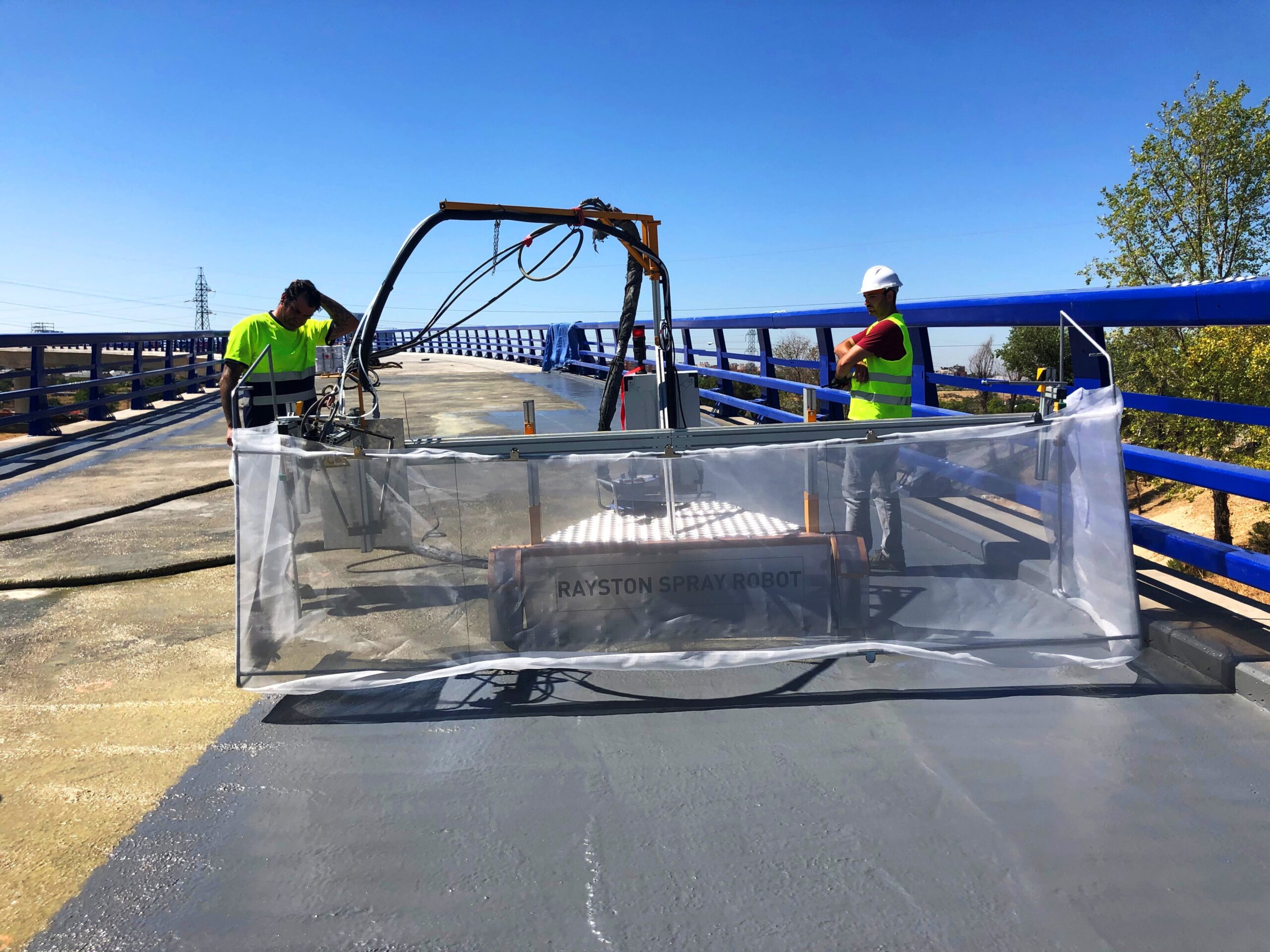 Two-component cold waterproofing
Among our range of two-component waterproofing products you will find many options for different needs.
Impermax Aqua 2K is a liquid polyurethane membrane ideal for waterproofing. It complies with the CE98 / 83 / CE standard, which can be used in contact with water for human consumption. This makes it an ideal product for waterproofing tanks, cisterns or channels, as well as in fish farms.
It can be applied easily on a wide variety of supports used in hydraulic infrastructures such as concrete, mortar, polyester reinforced with fiberglass.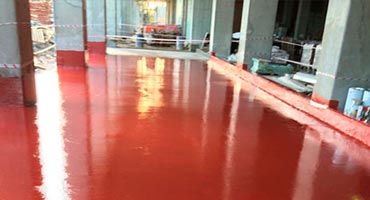 Two-component epoxy resin, very high thixotropy, 100% solids, compatible with wet concrete substrates (not standing water) and with high chemical resistance in continuous contact with wastewater. Specially designed as an interior lining of manholes and other structures, especially buried and without support movements.
Impermax Cold Polyurea SF
Our cold polyurea also exists without solvents. Quick-drying, non-flammable and extremely elastic, it is an ideal waterproofing option for interiors (wet rooms) and also exteriors (roofs) when a completely solvent-free and fast-curing system is needed, especially at low-temperature conditions.
Impermax 2KM has excellent strength properties. It is passable without the need for special protection. Impermax 2KM is a product without solvents and Geomax geotextile reinforcement can be applied up to 2kg / m2 in a single layer.
Impermax Cold Polyurea is a quick-drying hand-applied polyurea composition Creates a highly elastic membrane with the ability to bridge cracks. It is ideal for waterproofing concrete structures, roofs, terraces, etc. as well as water tanks.
At Krypton Chemical we have many cold application products options for your next project.
If you are looking for an alternative with even higher performance, see our hot-applied polyureas and polyurethanes.
Do you want to be a Krypton distributor?
We have representation in all continents and continue to expand our territory.