Aliphatic finishes for waterproofing systems
Although the mechanical properties of the membranes do not suffer under the impact of UV rays, some may lose their colour or shine over time. To avoid this, aliphatic finishes resistant to UV light have been developed, which protect the lower layers from the sun's consequences. But the finishes in roof waterproofing projects are not only a matter of aesthetics. Depending on the use that will be given, the finishing layers will need to resist pedestrian traffic, movement on the floors and many other daily challenges. At Krypton Chemical we have a selection of the best polyurethane protective finishes for your projects.
Types of finishes for waterproofing
Colodur – aliphatic finish of good resistance
Colodur is the aliphatic finishing of excellence of Krypton Chemical. It is a mono-component, continuous and flexible liquid polyurethane membrane. It is resistant to weathering and excellent adhesion. Colodur is recommended if you want to obtain traversable roofs.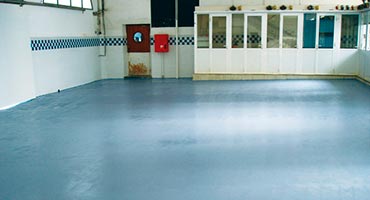 Impertrans – flexible aliphatic finish
Impertrans is a polyurethane membrane, continuous, flexible and elastic. It is recommended as a finishing layer for waterproofing systems for those non-transitable or maintenance-limited roofs.
Impertop Fast 2K – fast curing finish
Manual aliphatic protective finish, based on polyaspartic resins (quick curing). It presents a very good chemical resistance to abrasion, grating, UV radiation and to the outside. Its properties of elasticity and flexibility prevent the resin applied on the outside from fissuring.
Impertrans Eco is a bicomponent waterborne, continuous and flexible polyurethane membrane. Like Impertrans, it is an option for non-passable roofs, but it does not contain solvents.
Paintchlore – chlorine-resistant finish
Paintchlore is a high-performance resin based on aliphatic mono-component polyurethane, which reacts with environmental humidity, giving rise to hard and flexible coatings, with high resistance to abrasion and chemical agents, to salt and chlorinated water.
Impertop Fast 2K SF – fast drying without solvents
Like Impertop Fast 2K, it is an aliphatic and polyaspartic protective finish, with the advantage of not containing solvents.
Do you want to be a Krypton distributor?
We have representation in all continents and continue to expand our territory.