Parking floors
The parking floors need more than just a good waterproofing product and a protective finish. The passage of heavy vehicles is a challenge for waterproofing membranes and requires an adequate thickness to guarantee protection against wear and weight. Rayston's Impermax Park system is one of the most complete waterproofing systems and offers very high protection so that any floor can withstand the passage of tires.
Impermax Park: maximum resistance
To achieve adequate protection against vehicles and guarantee the longevity of the waterproofing system for parking lots, an intermediate layer of tread is usually installed, an extra protection between the waterproofing membrane and the finish whose function is to cover the lower layers and protect them from weight.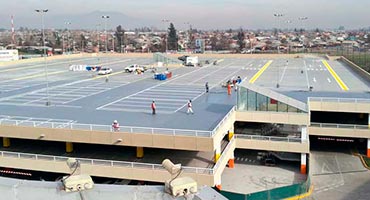 The rolling layer
But not with all the materials this added tread is necessary. In the case of using a hot-applied polyurea as a waterproofing membrane, it already offers sufficient thickness and strength to function as a rolling layer…
The finish
The surface finish layer is key to any parking waterproofing system. Not only has it to withstand the passage of tires, but also the enormous weight of the vehicles. At Krypton Chemical we have the ideal finish for any parking floor, of reduced sizes or large dimensions. We study each specific case and propose the solution that best suits the needs of the client and end user. In this way, the waterproofing system for parking roofs will be complete and offer a long protection to everything underneath their layers.
Do you have to install a parking floor? Do not hesitate to contact us.
We specialize in waterproofing systems. Our technical team will be happy to hear more about your project.
Contact now
We have representation in all continents and continue to expand our territory.