Green roofs
People become more and more fond of green roof and the urban garden. If we do not have a garden, good is the plan to have a roof to house those plants that not only make our eyes happy, but also have many ecological advantages for our cities. But beware! A green roof not only needs a watering system and a lot of love, but also a special waterproofing to ensure that the garden and all its humidity does not penetrate the interior.
The drilling of roots on a garden roof
Many do not imagine the force that vegetation can have. The roots of plants can penetrate many meters deep in search of water and minerals that are not on the surface. Although to a lesser extent, this is also the main problem with green roofs. When growing, the roots of plants, shrubs and even trees can penetrate and break an inadequate waterproofing membrane and leave the entire system unusable. Luckily, there are solutions such as the Impermax Green Roof waterproofing system from Rayston, which guarantees protection against roots.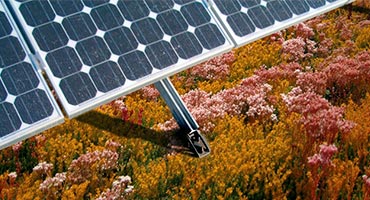 The Impermax Green Roof system
The Impermax membranes from Krypton Chemical, the base membrane of the Green Roof system, have a resistance certification against root drilling, provided by the APPLUS laboratory. This certification includes both the membrane alone, and also the reinforcement with Geomax geotextile, so the Impermax Green Roof system is the ideal protection against the strength of the roots and all the consequences that this entails.
But the Green Roof system does not only protect the interior of our houses of vegetation. It also creates a pleasant place for plants, facilitating irrigation and maintenance of the roof garden with different drainage systems and water conservation, according to the needs of our small garden on the roof.
How does a green roof work?
Green roofs work with the combination of different drainage systems and water retaining layers.
1. The rainwater soaks the substrate and is filtered by Geomax geotextile reaching the Rayston Bio Roof Drain drainage layer.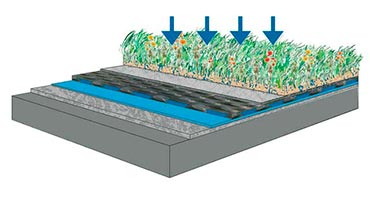 2. The rest of the water is filtered through the holes in the Bio Roof Drain to the top and when the filtered water reaches the Geotextile layer (retaining blanket) it is soaked.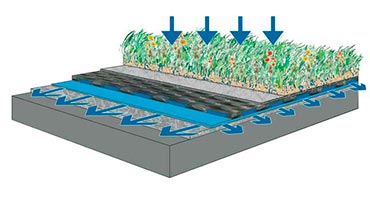 3. Following a natural cycle, the water evaporates, moistening and oxygenating the substrate through the orifices of the Bio Roof Drain.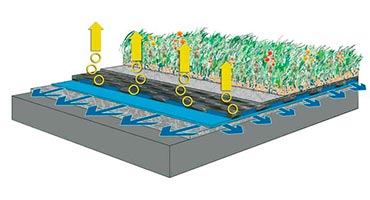 We have representation in all continents and continue to expand our territory.