Decorative floors and floors for terraces
Many people decorate their terraces and balconies with furniture, plants and other elements, without taking into account that the same floor can already fulfil this function. For all those who believe in the power of a good finish, we have developed our Impermax Decor systems, ideal for floors for terraces, balconies and exposed coverings.
Impermax Decor: waterproofing with decorative finish
The Rayston waterproofing systems support a wide variety of surface finishes that protect the waterproofing membrane from sun exposure or scratches. But we can go much further. There are many decorative solutions which besides from protecting also give an elegant touch to our terrace or balcony floor. Below, we present the different options for decorative terraces:
Colour quartz finish
One of the most requested options is the quartz sand finish, which not only offers a wide range of finishing colours, but also gives a rough finish and, therefore, non-slip to the terrace.
After the installation of the base layers of the waterproofing system, a protective finishing layer is applied, on which the quartz sand is sprinkled until saturation, sealing the system later with a transparent protective finish. The final aspect can be as we show below: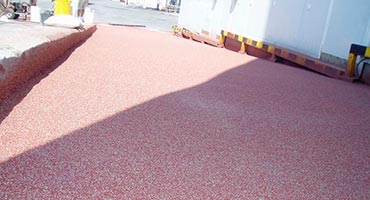 Finished with decorative Chips
For those who do not like sand there are other options. Instead of the coloured quartz you can also use decorative chips of multiple colours and sizes. They are applied in the same way as quartz, sprinkled over a finish with the desired density and sealed with a transparent finish.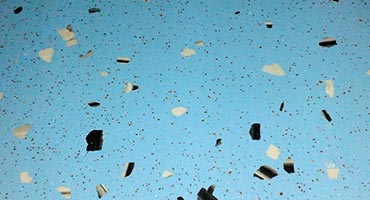 PAVISTONE finish system
The Decor system with Pavistone finish is the fusion of waterproofing systems with Rayston flooring systems to give a natural and beautiful appearance to the floor of the terrace. The Rayston Floor PU40 Deco flooring system agglomerates natural marble stone with a transparent polyurethane resin. The shapes that can be given to this pavement are almost endless thanks to the use of different molds and aluminium profiles. The final aspect of the terrace will improve any view.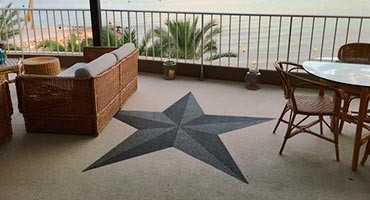 Do you have to install a decorative terrace?
Do not hesitate to contact us. Krypton Chemical will be with you during your project from the planning to the execution of the work.
CONTACT NOW
We have representation in all continents and continue to expand our territory.