Containment of other liquids
Thanks to its fantastic mechanical properties and resistance to contact with a wide variety of chemicals, Rayston's pure polyureas have been able to demonstrate their enormous effectiveness in secondary containment in the chemical, oil and mining industries. As it is a hot spray application material, which is characterized by its fast curing, it is also ideal for those places where the application has to be extremely fast, to interfere minimally in the production processes.
Secondary containment and piping systems
The chemical, oil and mining industry plants have a particular configuration, due to the numerous singular points and the presence of abundant tanks and liquid tanks for which it is necessary to have a reliable and economical secondary containment system.
The Rayston Systems from Krypton Chemical offer unique and durable secondary containment solutions. They allow the application with a time of put in reduced work. They are of high performance such as good resistance to wear and corrosion. Without joints, one-hand application can be stuck or floating.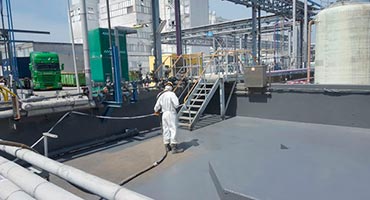 Do you want to know more about the incredible properties of our polyureas?
Visit our hot application products section or contact us for more information. Our technical team will be happy to advise you on your next waterproofing project.
We have representation in all continents and continue to expand our territory.