PAVING; speed and efficiency
High strength, durability and excellent properties.
We can define a polyaspartic as an aliphatic polyurea applied cold or hot. Thanks to its characteristics, polyaspartics are a good choice for high strength, durable floor coatings with excellent properties. It also highlights its fast curing.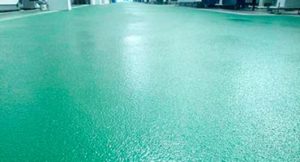 Polyaspartics are often applied on industrial floors, thus shortening the application time and allowing a quick commissioning of the pavement. In addition, they are characterized by an excellent quality of finish, high brightness and stability to light and UV rays.