At Krypton Chemical we have developed a self-levelling hybrid polyurea with fast curing properties and excellent performance. Like all hot application products, it is applied by special projection equipment and must be handled by professionals. However, the results are incredible.
Polyurea H SL – Polyurea for floors
Polyurea H SL is a two-component modified polyurea resin that is applied by hot spraying.
Even being a product of fast curing, it is slightly slower and therefore more levelling than other polyureas and polyurethanes of hot application. This results into a continuous, elastic pavement with a smooth finish or textured finish applying quartz to saturation and sealed with a fast-curing polyaspartic paint like Kryptanate 100 or 100LV, thus achieving a non-slip surface.
Polyurea H SL has been designed for the realization of self-levelling pavements, creating a slower curing product respecting the times of a material of quick curing, for an excellent finish.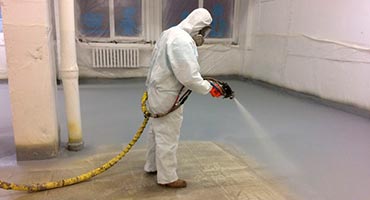 Fast execution allowing to apply up to 800m2
Excellent start-up times
Waterproof and non-porous
Possibility of making a non-slip floor.
High adhesion to multiple substrates.
Resistant to abrasion, impact and wear by use
Available in a wide range of colours.
Kryptanate Spray – A polyaspartic for high resistance flooring
Kryptanate Spray is an aliphatic and hard polyurea. Application in one pass. Same as Polyurea H SL, it is applied only with hot projection equipment. It has excellent retention of brightness and colour, is practically free of solvents (VOC) and has high resistance to corrosion and weathering.
Do you need to know more information about polyureas?
Contact us and we will explain everything that needs to be highlighted about this incredible material. We love polyurea!
Do you want to be a Krypton distributor?
We have representation in all continents and continue to expand our territory.